Hi fellow travelers!
I'm very proud to announce that the new version of our site is up!
If you're thinking on a
Peru Travel
or a trip to any other Latin American destination, we'll be very glad to help you out planning it!
One of the main changes we've made is to present example tours so you can see what we're capable of doing, instead of just listing tours that are "ready to go". That way we can emphazise our conviction that every traveler is different from the other sowe can plan our clients' trip together based in their wishes and our experience.
I can't thank enough to all people involved in this project: our IT and design department, the MK people and every single person in the company who gave us great ideas to have the travel site our clients deserve!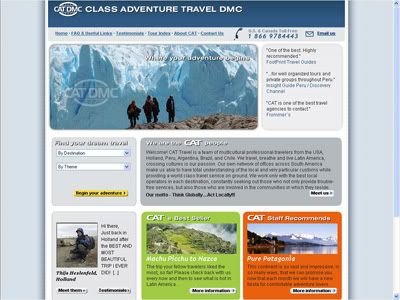 But above all we want to thank you, readers of this blog and of the various travel forums of which we are members, for giving us inputs of what you think a tour operator site should look like!
Of course and as always, your comments , critics and praises ;) are very welcomed!
Have a nice day
Bart